Standards for smart driving on the way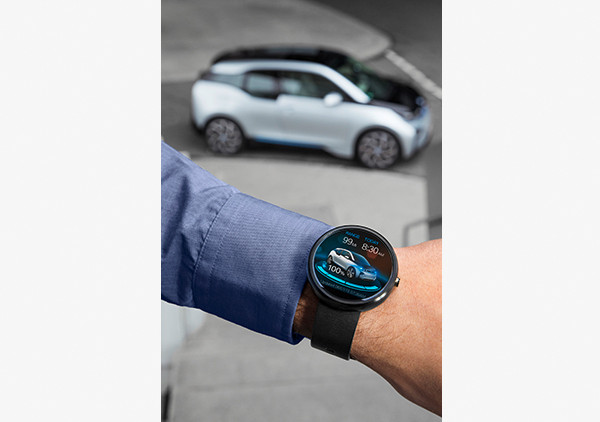 A car is connected to a smart watch through the BMW i Remote technology. [Photo provided to ChinaDaily]
Intelligent connected vehicle technology development road map to be released nextmonth
China is about to unfold its road map for intelligent connected vehicle development, in theexpectation of regulating and standardizing the burgeoning sector, and helping local car makersand related companies head forward speedily.
The Ministry of Industry and Information Technology plans to release an intelligent connectedvehicle technology development guidelines next month, a leading official from the minstry said atthe Forum on Integration of Auto Industry and Information Communication Technology onWednesday.
The ministry is also drafting a production standards framework and a committee of experts isbeing prepared to research and establish the standards for the technology, intelligent assistant,and information security for intelligent connected vehicles, said She Weizhen, director of theequipment industry division at the ministry.
"An immense evolution is coming, we should accelerate developing the technology and transformthe industry from big to strong," she said.
Industry insiders say intelligent connected vehicles will have to be able to react on time tochanging situations, which involves a vehicle autonomously collecting information via its sensors,rapidly processing it and then issuing instructions for it to act on.
Vehicles will also communicate with the transportation infrastructure to help the car understandthe traffic situation and aid traffic control, and China plans to carry out a pilot program in the nearfuture.
"The road map and policies will unify the market and regulate the related sectors," said ZhangJunyi, a partner at Roland Berger Strategy Consultants. "We will see standards with Chinesecharacteristics, as China won't simply copy those of overseas, and the country will have its say inthe global industry."
"The standards may cover vast areas from the definition and design of an intelligent connectedcar, to the testing and applications," Zhang added.
He said the ministry's actions will support the development of Chinese automakers, as therewon't be any grey areas left hindering investors' decision-making.
Currently, Chinese companies have not mastered the core technologies in automotive radar andsensors and the related parts, the majority of the parts and industrial solutions come fromEuropean and United States technology companies.
In terms of volume, Robert Bosch GmbH is leading the practical and critical parts sector towardfuture intelligent mobility, including driving assistance, high-speed adaptive cruise controlassistance, and emergency hard braking, according to the German company.
The State Council last year released its "Made-in-China 2025" strategy stating intelligentconnected cars are one of the focus industries, and MIIT has been strengthening the top-leveldesign since then.
China Intelligent Transportation Systems Association's president Wu Zhongze sees thedevelopment of the intelligent connected car as a way to alleviate the problems of climatechange, traffic congestion, and road safety, and he sees it as an inevitable trend in thedevelopment of the automobile industry.
After growth in China's auto market-the world's largest-slowed, international car makers haveexerted themselves to try and catch the eye's of Chinese customers', especially through thedemonstration of vehicle intelligence. The technologies give halo effects to the brands, thoughthey may not be available yet in a brand's mass-produced models, and the Chinese automakersare following the trend.
Chongqing Changan Automobile Co's autonomous driving car travelled about 2,000 kilometersfrom Chongqing to Beijing in April, and weeks later, LeEco Holdings Ltd unveiled its conceptsupercar LeSee and demonstrated automatic driving at low speeds and autonomous parking tothe media.
One of the nation's leading internet companies Baidu Inc has been working with BMW to expandinto the sector based on its mapping data and services, and the two companies conducted theirfirst road test of an autonomous driving car in December.
Ministries are also drafting regulations on the testing of intelligent connected vehicles on publicroads, allowing only those products in line with the regulation to conduct highway tests.
An enclosed environment has been created for non-highway tests. The National IntelligentConnected Vehicle Testing Demonstration Base was opened in Shanghai in June, and thenational-level base is expected to facilitate research and development, standards studies andpolicy formulation, besides testing the technology.
"The current road tests were rolled out in the circumstances of no testing rules at all. It is anecessity for the industry to have standards for all to adhere to," Zhang said.
MIIT has progressively participated in the related global regulations and standards beingestablished through the United Nations Forum for Harmonization of Vehicle Regulations, and theAutomotive Branch of the China Standardization Association and ministries have heldinternational forums to discuss the standards and regulations on intelligent connected vehicletechnology this year and last year.