Some interesting facts about Dragon Boat Festival
The Dragon Boat Festival is an important traditional festival in China. It is also celebrated in other countries in Asia. Here are seven facts about this important and popular holiday.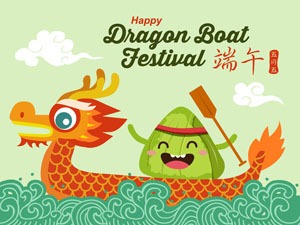 1. The Festival Date Varies Each Year!
The date for the Dragon Boat Festival changes each year. It is on the fifth day of the fifth month according to China's lunar calendar, which falls in the period from May 25th to July 24th. Dragon Boat Festival 2020 falls on June 25th.
2. It Is an Important Public Holiday
The Dragon Boat Festival is an important public holiday. Chinese people will have one day's holiday, but it is officially proclaimed as a 3-day holiday (including the two weekend days).
In 2020, most Chinese people will be off work from Thursday (June 25) to Saturday (June 27), and will be back at work on Sunday, June 28.
3. It Is One of the National/UNESCO Intangible Cultural Heritage Items
The Dragon Boat Festival was originally selected into the first batch of National Intangible Cultural Heritage items on May 20th, 2006. On October 30th, 2009, it was added to the UNESCO Representative List of the Intangible Cultural Heritage of Humanity.
4. It Is an Traditional Festival to Worship an Ancient Chinese Poet — Qu Yuan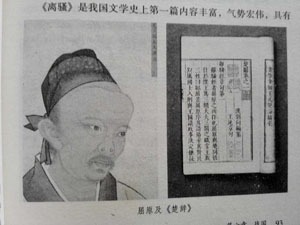 Qu Yuan (BC 340 - BC278)
The origin of Dragon Boat Festival is said to be from the Warring States Period when the patriotic poet, Qu Yuan, drowned himself in the Miluo River on the fifth day of the fifth lunar month.
Local people raced their boats to search for his body and dropped lumps of rice into the river so the fish would not feast on Qu Yuan's body.
In order to commemorate Qu Yuan, this practice continues today.
5. The Most Ceremonial Activity Is Held — Dragon Boat Racing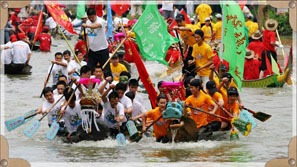 Dragon Boat Racing
Originating from the legend of Qu Yuan, dragon boat racing is the most popular activity during the Dragon Boat Festival. Many places in China hold dragon boat races to celebrate the festival on the fifth day of the fifth lunar month, especially in southern China.
Now it is an international event. Learn more about Dragon Boat Racing.
6. Eating Zongzi is the Most Popular Custom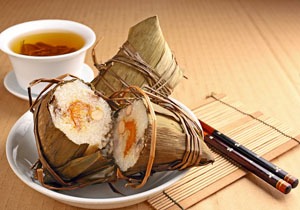 Zongzi
In the morning of the festival, every family eats zongzi to commemorate Qu Yuan. Zongzi is a kind of sticky rice dumpling wrapped in bamboo leaves. It is made from sticky rice with various fillings. People usually prepare zongzi a day before the festival.
7. Special Plants are Hung on Doors to Discourage Diseases
Chinese mugwort extract has insecticidal and slight antifungal properties, and calamus has insecticidal and antibacterial properties. They deter moths, mosquitoes, and other insects.
On the fifth day of the fifth lunar month, people have hung Chinese mugwort and calamus on their doors or walls for generations in the belief that they drive away evil and diseases. They are also believed to bring good luck.
It is an old practice that is still used in many of China's rural areas, but is not common in cities nowadays.