Carvana Q1 net loss surges on expansion outlays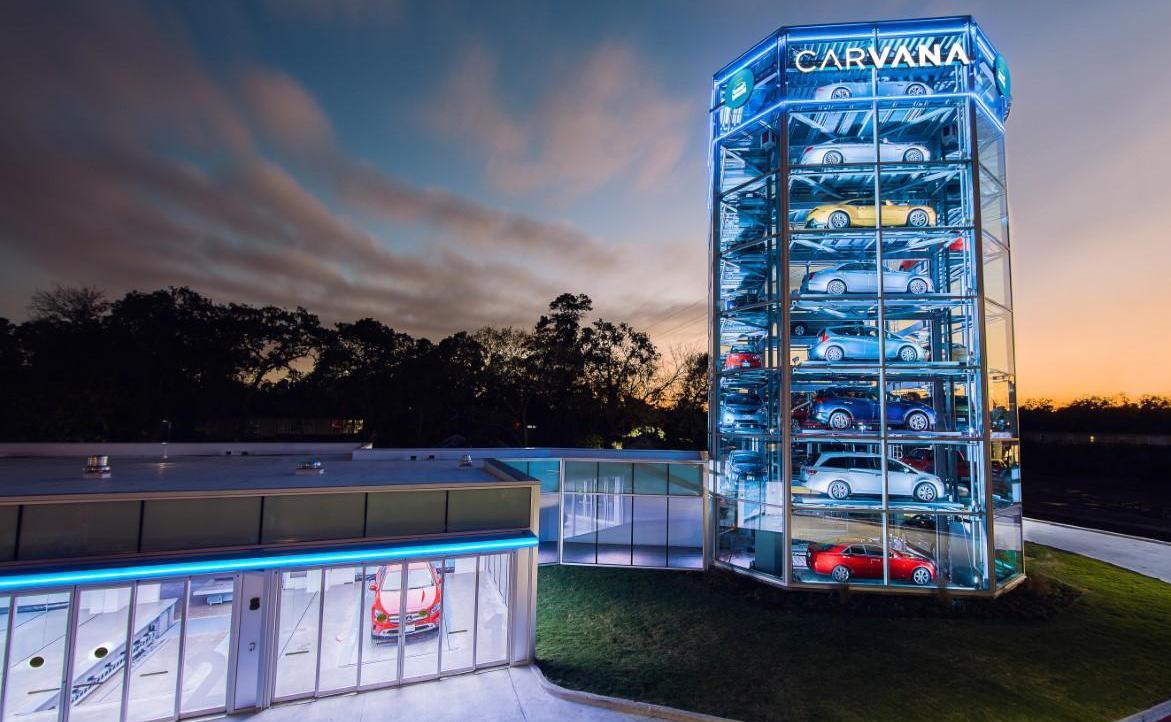 Online used-vehicle retailer Carvana Co., in its first quarterly report as a publicly traded company, reported a sharply wider net loss in the first three months of the year on costs related to expansion.
Carvana, perhaps best known for its vehicle "vending machine" towers in four markets, lost $38.4 million in the quarter ended March 31, compared with a $17.3 million loss a year earlier. Revenue surged 118 percent to $159.1 million from a year earlier
The company pinned the red ink on its push into several new markets, including openings in Philadelphia and Virginia Beach, Va., during the quarter. Carvana operated in 23 markets at the end of the first quarter, up from 11 a year earlier.
"We continue to see increased consumer adoption of online car buying across our markets, charting a clear path to consistent growth within the $710 billion U.S. used auto market," Carvana CEO Ernie Garcia said in a statement.
Growing losses
The first quarter loss comes after Carvana lost $93.1 million in 2016. The company hasn't been profitable since it began operations in 2013, racking up about $191 million in losses during that time.
Tuesday's quarterly report is Carvana's first since its initial public offering on April 27. Carvana's shares have plummeted 40 percent since the IPO on concerns over declining used-vehicle prices in the face of growing supply.
Ahead of the earnings report, Carvana shares rose 5.9 percent to close at $9.53 in Tuesday trading. Following the release of the results, the company's shares increased 10 percent to $10.49 in after-hours trading.
The rally came despite a Tuesday report by Bloomberg that found Carvana failed to disclose that Ernie Garcia II, who owns a controlling stake in the company and is the father of CEO Ernie Garcia, has a criminal conviction tied to the savings-and-loan scandal of the early 1990s.
The elder Garcia pleaded guilty to bank fraud for his role in the demise of California's Lincoln Savings and Loan Association. The company did not disclose the matter to investors in the lead-up to its IPO, although there is no legal requirement to do so.
Sales surge
Carvana sold 8,334 vehicles in the first quarter, more than double the 3,783 sold during the year-earlier period. It sold 5,600 vehicles in the fourth quarter of 2016.
The Phoenix company said Tuesday it aims to begin selling vehicles in an additional 16 to 18 U.S. markets this year. As a result, Carvana expects to sell between 44,000 and 46,000 used vehicles in 2017, up from 18,761 in 2016. It anticipates 2017 revenue of between $850 million and $910 million, up from $365 million last year.
Carvana reported gross profit per unit of $1,169, up $123 from a year earlier. According to a regulatory filing, Carvana said it expects to generate gross profits per unit of $1,375 to $1,425 in the second quarter.
The gains in units sold and gross profit per vehicle sold came despite a delay in federal tax refunds, which contributed to "slightly lower" average selling prices, Carvana said in the filing.
Bloomberg contributed to this report.