We are a professional Sway bar bracket (Other parts) manufacturer and supplier in China. Here you can find high-quality products in a competitive price. Also we supply OEM service of products for you.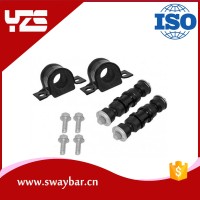 Min. Order: 5000 piece
Sway bar kits assembly is formed by brackets, links and bushing,to achieve its buffering effect and good quality.
Signup for our newsletter to stay up-to-date on our promotions, discounts, sales, special offers and more